MANY OF THEM [issue] #7 [title] THE FUTURE OF FICTION – 25,00 € / ORDER NOW


25,00 € / ORDER NOW






"A CURATED ISSUE FORMED AROUND A CONVERSATION BETWEEN A SELECTION OF ART PIECES PHOTOGRAPHED FROM MAY TO AUGUST OF 2019 IN COLLABORATION WITH SEVERAL EUROPEAN ART INSTITUTIONS SUCH AS: TATE MODERN, CENTRE POMPIDOU, VENICE BIENNALE, GALERÍA ELBA BENITEZ, VILLA NOAILLES, SOLOMON R. GUGGENHEIM FOUNDATION, V-A-C FOUNDATION, GALERIE THADDAEUS ROPAC, CA' D'ORO - GALLERIA FRANCHETTI, GAGOSIAN, LISSON GALLERY, MUSEO NACIONAL CENTRO DE ARTE REINA SOFÍA, IVORYPRESS, SUZANNE TARASIEVE, SADIE COLES HQ, PUNTA DELLA DOGANA - PALAZZO GRASSI, FONDATION CARMIGNAC, PALAIS DE TOKYO, VICTORIA MIRO AND FONDATION LOUIS VUITTON."



Issue #7 of MANY OF THEM delves into FRANCESCO RISSO's work as creative director at MARNI and explores where he would like to take the brand in the future. From his new atelier in Paris, recently declared a "monument historique," OLIVIER THEYSKENS reflects on how streetwear style is overtaking couture brands, and how the retro-futuristic aesthetic spawing of Blade Runner was the starting point for his latest show in Paris. Regarding his last collection, titled I Am Not Sustainable, avant-garde tailor GEOFFREY B. SMALL explains his take on ethics and principles in the fashion industry and relates how the Peruvian government saved the vicuña in 1995 after being number one on the extinction list because people were killing the animal to get the hide and the fur. Swedish-Chilean artist ANTON ALVAREZ speaks from his studio in Stockholm about his most recent exhibitions and the incredible process of working and designing machines that can create objects without human intervention such as The Extruder. And to conclude this special art edition, CLAIRE DENIS reflects on directing High Life, her first sci-fi and non-French movie, written in collaboration with her longtime co-writer JEAN-POL FARGEAUAND, and remembers how her readings of the English mathematician Sir ROGER PENROSE about black holes were applied to the making of the film.

Plus, in this issue multiple fashion stories were created in collaboration with: CELINE BY HEDI SLIMANE, ÉTUDES, LOEWE, PACO RABANNE, DRIES VAN NOTEN, BOTTEGA VENETA, BALENCIAGA, OFF-WHITE, OLIVIER THEYSKENS, LOUIS VUITTON, AMBUSH, 1017 ALYX 9SM, LEMAIRE, ANNTIAN, BEIRA, Y/PROJECT, JUNYA WATANABE, SACAI, FENDI, YOHJI YAMAMOTO, BOTTER, NINA RICCI, UNDERCOVER, KENZO, CRAIG GREEN, JW ANDERSON, SIMONE ROCHA, STELLA McCARTNEY, HERMÈS, GUCCI, GEOFFREY B. SMALL, RICK OWENS, LAUREN MANOOGIAN, PRADA, DIOR MEN, BERLUTI, ISSEY MIYAKE, ACNE STUDIOS, COMME DES GARÇONS HOMME PLUS, MIU MIU, TAKAHIROMIYASHITA THE SOLOIST, JACQUEMUS, CHANEL, MARNI, SAINT LAURENT BY ANTHONY VACCARELLO and REALITY STUDIO.

For the first time since its publication, there are six different covers available of this MANY OF THEM volume: JAKO ÅSTRAND in CELINE BY HEDI SLIMANE, OTTAWA KWAMI in CRAIG GREEN, CHU WONG in BALENCIAGA, TESSA BRUINSMA in SAINT LAURENT by ANTHONY VACCARELLO, JERANIMO VAN RUSSEL in ISSEY MIYAKE and YILAN HUAN in GEOFFREY B. SMALL.


440 pages, 275 x 195 x 25 mm, softcover, printed in Spain, 2019.





Cover 1, CELINE by HEDI SLIMANE. Double-breasted two button coat in charcoal diagonal wool cashmere, one button rectangle jacket with notched collar in black military gabardine, classic shirt in black cotton, classic trousers in black military gabardine, Black Frame 03 sunglasses in black acetate and Derby in black patent calfskin, CELINE by HEDI SLIMANE. Photography, ANTONIO MACARRO. Styling, PEDRO CANICOBA. Model, JAKO ÅSTRAND at Elite Paris. Hair and Make-up, JONATHAN SANCHEZ for Bumble and Bumble. and MAC Cosmetics. These CELINE BY HEDI SLIMANE pieces were photographed in July of 2019 in Paris, France




Cover 2, BALENCIAGA. Pleated ring dress in neon pink technical crepe, Paris Eiffel Tower ring in gold brass, B Paris XL earrings in antique silver and Fringe knife 110mm pump in white shiny leather with semi-shiny palladium hardware, BALENCIAGA. Photography, ANTONIO MACARRO. Styling, PEDRO CANICOBA. Model, CHU WONG at Elite Paris. Hair, SUMIYO KIOSHIMA. Make-up, AKARI SUGINO for Clé de Peau Beauté. These BALENCIAGA pieces were photographed in July of 2019 in Paris, France




Cover 3, CRAIG GREEN. Ghost parka and trousers in white nylon and CRAIG GREEN X GRENSON black leather boots, CRAIG GREEN. Photography, ANTONIO MACARRO. Styling, PEDRO CANICOBA. Model, OTTAWA KWAMI at Uno Models. Hair and Make-up, VICENT GUIJARRO. These CRAIG GREEN pieces were photographed in May of 2019 in London, UK




Cover 4, GEOFFREY B. SMALL. Shirtjacket (DOWJ01) and trousers (DOWP01) in brown Biella cashmere and yak and heels in black leather, GEOFFREY B. SMALL. Photography, ANTONIO MACARRO. Styling, PEDRO CANICOBA. Model, YILAN HUAN at The Face. Hair and Make-up, JONATHAN SANCHEZ for Bumble and Bumble. and MAC Cosmetics. These GEOFFREY B. SMALL pieces were photographed in June of 2019 in Paris, France




Cover 5, ISSEY MIYAKE. Striped sweater in multicolour cotton and polyester, trousers in black cotton and wool and shoes in black leather, ISSEY MIYAKE. Photography, ANTONIO MACARRO. Styling, PEDRO CANICOBA. Model, JERANIMO VAN RUSSEL at Success Models. Hair and Make-up, JONATHAN SANCHEZ for Bumble and Bumble. and MAC Cosmetics. These ISSEY MIYAKE pieces were photographed in June of 2019 in Paris, France




Cover 6, SAINT LAURENT by ANTHONY VACARELLO. Dress in black velvet with embroidered bow, plumeti tights in black cotton, beret in black velvet, earrings in black and white crystal, and platform sandals in black polished leather, SAINT LAURENT by ANTHONY VACARELLO. Photography, ANTONIO MACARRO. Styling, PEDRO CANICOBA. Model, TESSA BRUINSMA at Next Paris. Hair, SUMIYO KYOSHIMA. Make-up, AKARI SUGINO for Anastasia Beverly Hills. These SAINT LAURENT by ANTHONY VACCARELLO pieces were photographed in July of 2019 in Paris, France




Page 45, CELINE by HEDI SLIMANE. Double-breasted two button coat in charcoal diagonal wool cashmere, one button rectangle jacket with notched collar in black military gabardine, classic shirt in black cotton, trousers in black military gabardine, black frame 03 sunglasses in black acetate and derby in black patent calfskin, CELINE by HEDI SLIMANE. Photography, ANTONIO MACARRO. Styling, PEDRO CANICOBA. Model, JAKO ASTRAND at Elite Paris. Hair and Make-up, JONATHAN SANCHEZ for Bumble and Bumble. and MAC Cosmetics. These CELINE by HEDI SLIMANE pieces were photographed in July of 2019 in Paris, France





Page 74, DRIES VAN NOTEN. Transparent dress in lilac polyester, shirt and skirt in parma polyester and high boots in lilac silk and viscose blend, DRIES VAN NOTEN. Photography, ANTONIO MACARRO. Styling, PEDRO CANICOBA. Model, MAYKA MERINO at Uno Models. Hair and Make-up, VICENT GUIJARRO. These DRIES VAN NOTEN pieces were photographed in May of 2019 in Madrid, Spain




Page 75, LUC TUYMANS. K, 2017. Oil on canvas. This piece was photographed by ANTONIO MACARRO in August of 2019 at the Palazzo Grassi as part of La Pelle exhibition in Venice, Italy




Page 147, GERHARD RICHTER. 8.2.92., 1992. Oil on photograph. This piece was photographed by ANTONIO MACARRO in June of 2019 at the Gagosian Gallery as part of the GERHARD RICHTER: Overpainted Photographs exhibition in London, UK. ©GERHARD RICHTER 2019 (12112019)




Page 151, LEMAIRE. Trench coat, overshirt jacket and twisted trousers in camel cotton and boots in dark brown leather, LEMAIRE. Photography, ANTONIO MACARRO. Styling, PEDRO CANICOBA. Model, MARIUS at TIAD. Hair, SUMIYO KIOSHIM. Make-up, AKARI SUGINO for Shiseido. These LEMAIRE pieces were photographed in July of 2019 in Paris, France




Page 201, COMME DES GARÇONS HOMME PLUS. Long tuxedo jacket in black wool, tunic in black polyester with lizard pattern, cycling short trousers in black cotton and Jordan sneakers in black leather, COMME DES GARÇONS HOMME PLUS. Photography, ANTONIO MACARRO. Styling, PEDRO CANICOBA. Model, DAICHI YAMADA at Diva Models. Hair, SUMIYO KIOSHIM. Make-up, AKARI SUGINO for Shiseido. These COMME DES GARÇONS HOMME PLUS pieces were photographed in July of 2019 in Paris, France




Page 216, FRANZ WEST. 2 to 2 (do too 2 [too do 2 {to do two}]), 1994. Papier-mâché, paint, gauze, gesso, metal and plastic with four bookshelf pedestals. This piece was photographed by ANTONIO MACARRO in May of 2019 at the Tate Modern as part of FRANZ WEST's solo exhibition in London, UK. ©Archive FRANZ WEST and ©Estate FRANZ WEST




Page 217, BALENCIAGA. Dropped neckline jacket in blue fake fur, blouse in spruce green fluid silk satin, straight trousers in washed blue denim, twirl earrings in shiny gold copper and fringe knife 110mm pump in turquoise shiny leather, BALENCIAGA. Photography, ANTONIO MACARRO. Styling, PEDRO CANICOBA. Model, ANNIE TICE at Premier Model Management. Hair and Make-up, VICENT GUIJARRO. These BALENCIAGA pieces were photographed in May of 2019 in London, UK




Page 219, FRANZ WEST. 2 to 2 (do too 2 [too do 2 {to do two}]), 1994. Papier-mâché, paint, gauze, gesso, metal and plastic with four bookshelf pedestals. This piece was photographed by ANTONIO MACARRO in May of 2019 at the Tate Modern as part of FRANZ WEST's solo exhibition in London, UK. ©Archive FRANZ WEST and ©Estate FRANZ WEST




Page 231, JW ANDERSON. Tailored jacket in grey patchwork wool gabardine, shirt in light blue and white satin twill, skirt in light blue and white satin twill with georgette drapes, keyts bag in black leather, cap in brown leather and boots in leopard print knitted lycra, JW ANDERSON. Photography, ANTONIO MACARRO. Styling, PEDRO CANICOBA. Model, TAEHEE KIM at Select Models Management. Hair and Make-up, VICENT GUIJARRO. These JW ANDERSON pieces were photographed in May of 2019 in London, UK




Page 253, LOEWE. Shirt in light blue cotton with lambskin fur trim, belted trousers in grey Prince of Wales check wool, biker cap in black calf, multi-pocket headband in multicolour calfskin, sungalsses in black acetate and wader loafers in black calfskin, LOEWE. Photography, ANTONIO MACARRO. Styling, PEDRO CANICOBA. Model, NOUR PRIMS at Uno Models. Hair and Make-up, VICENT GUIJARRO. These LOEWE pieces were photographed in August of 2019 in Madrid, Spain





Page 294, MARNI. Coat in grey wool with white cotton silk linen, pleated v-neck top in white cotton, draped pleated skirt in grey wool, belt in silver brass with pendants and boots in black leather, MARNI. Photography, ANTONIO MACARRO. Styling, PEDRO CANICOBA. Model, PAN HAOWEN at Elite Paris. Hair and Make-up, JONATHAN SANCHEZ for Bumble and Bumble. and MAC Cosmetics. These MARNI pieces were photographed in July of 2019 in Paris, France




Page 367, MANY OF THEM delves into FRANCESCO RISSO's work as creative director at MARNI and explores where he would like to take the brand in the future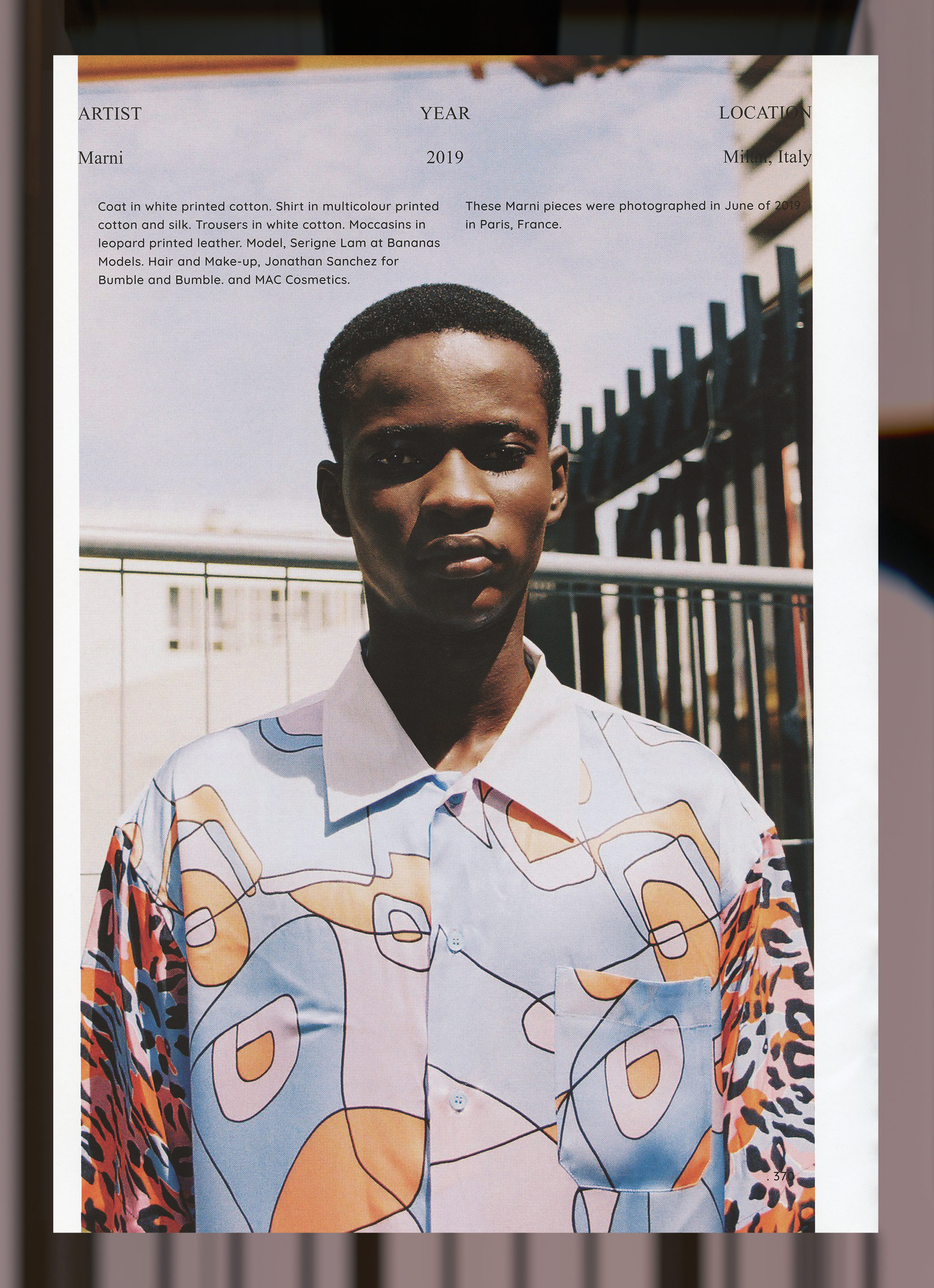 Page 370, MARNI. Shirt in multicolour printed cotton and silk, trousers in white cotton and moccasins in leopard printed leather, MARNI. Photography, ANTONIO MACARRO. Styling, PEDRO CANICOBA. Model, SERIGNE LAM at Bananas Models. Hair and Make-up, JONATHAN SANCHEZ for Bumble and Bumble. and MAC Cosmetics. These MARNI pieceswere photographed in June of 2019 in Paris, France




Page 380, ANTON ALVAREZ. F-1213170745, 2018. Clay. This piece was photographed in June of 2019 at the 193 Gallery in Paris, France




Page 381, Swedish-Chilean artist ANTON ALVAREZ speaks from his studio in Stockholm about his most recent exhibitions and the incredible process of working and designing machines that can create objects without human intervention such as The Extruder




Page 436, CLAIRE DENIS. High Life [still], 2018. DCP, 110 min. Paris, France




Page 437, CLAIRE DENIS reflects on directing High Life, her first sci-fi and non-French movie, written in collaboration with her longtime co-writer JEAN-POL FARGEAUAND, and remembers how her readings of the English mathematician Sir ROGER PENROSE about black holes were applied to the making of the film




Back cover, CELINE by HEDI SLIMANE Winter 2019 campaign. Photography, HEDI SLIMANE. Model, LARA MULLEN at Premier Model Management. Hair, ESTHER LANGHAM. Make-up, AARON DE MAY. This campaign was photographed in Paris, France