MANY OF THEM [issue] #5 [title] THE FUTURE OF FICTION – 30,00 € - ORDER NOW


30,00 € – ORDER NOW ︎







"HIGHLIGHTS FROM THE CHARLIE ROSE SHOW: A CONVERSATION ABOUT THE FUTURE OF FICTION IN THE INFORMATION AGE WITH DAVID FOSTER WALLACE, AUTHOR OF INFINITE JEST, JONATHAN FRANZEN, AUTHOR OF STRONG, AND MARK LEYNER, AUTHOR OF TOOTH IMPRINTS ON A CORN DOG, ON FRIDAY, MAY 17, 1996."


In issue #5 of MANY OF THEM, ISSEY MIYAKES's head womenswear designer YOSHIYUKE MIYAMAE examines his latets collection, Seeds, a very emblematic title as the company functions like a big tree that drops seeds, which all develop at their own rate. Simultaneously, MIYAMAE voices her thoughts on the era of the star designer being over and how today designs must be created by team. On the other side of the planet, the Belgian fashion designer OLIVIER THEYSKENS reviews his career as creative director of ROCHAS, NINA RICCI and THEORY. THEYSKENS also shares why for him the "See Now, Buy Now" business model doesn't feel very "sexy" for the industry and reflects on how the process of waiting in between seasons allows people to understand the product and build up desire for it. From his 81 rue du Temple studio, German designer LUTZ HUELLE declares that his life-long obsession with clothes is rooted in their power to transform individuals into the person they want to be and ponders on why he feels uncomfortable when designers take over subcultures and profit from them. Winner of the LVMH Jury Prize, VEJAS KRUSZEWSKI, chats about the first collection he presented in Paris and reflects on how practicality and functionality mixed with a futuristic, organic vibe are recurring elements in his work. KRUSZEWSKI also asserts it's impossible for a young designer to achieve a fully formed, perfect product at a competitive price and explains why staying independent is the hardest path for a small brand's future. Inspired by JACKIE NICKERSON's farm photos, SIMONE ROCHA discusses her Spring-Summer 2017 collection and how she understands her work as a reinterpretation of classical femininity codes to see how they can become interesting or perverse. "We made the decision to leave the competition for the LVMH Prize and became the artistic directors of COURRÈGES," state ARNAUD VAILLANT and SÉBASTIEN MEYER. The duo also explain the manifesto they wrote for the team of the legendary fashion house, Simplicité et vision, referring to how fashion is in desperate need of simplicity these days. SIES MARJAN creative director SANDER LAK converses about the contrast between New York, a town that values innovation and industry, and Europe, which is more about history, heritage and time. LAK also mentions how designers and creative directors have to work with stylists more often nowadays as they don't have time to stand up, analyse and edit their own designs. After claiming that fashion is a valid platform for social, historical and anthropological ideas, menswear designer JOHN ALEXANDER SKELTON reviews his Spring-Summer 2017 collection based on when Britain first came to India, for which one of the main sources of inspirations for materials was the khadi, a handspun and handwoven cloth that was named by Ghandi. Designer and book collector OLYMPIA LE-TAN looks back at when she started making her famous book clutches in 2009 based on her dad's book collection, and recounts how she enjoyed her collaborations with SPIKE JONZE, SIMON CAHN, or ARAKI, with whom she designed a collection inspired by Japan. Austrian designer duo HERMAN FANKHAUSER and HELGA RUTHNER, from WENDYJIM, delve into the inspiration for their last collection: the unique idea of looking at things very quickly on the Internet in low resolution. The designers also ponder on why there is no tension among young designers nowadays and how they are expected to have products with the same level of quality as luxury groups. From her atelier in Paris, jewelry designer LIGIA DIAS reminisces on the first piece she made inspired by Bauhaus artist ANNIE ALBERS, and justifies her refusal to be governed by a fashion calendar since today's system main fault is that designers don't have enough time. Lithuanian shoemaker CHEREVICHKIOTVICHKI explains that the name of her brand stands for a "shoe by Victoria" in the old Slavic language and how in many of the utilitarian objects she makes there is a sense of practicality that comes from the Soviet side of her past. CHEREVICHKIOTVICHKI also describes how she had access to the National Archives of Lithuania from which she made this season's prints using daily papers' images and texts from 1917 to the 1990s, covering Lithuania's most important events. Fashion designer MOLLY GODDARD, winner of the British Fashion Council and the Vogue Fashion Fund Award in 2018, feels drawn to strange things within English culture like hand-knitted dolls or clothes by old women, and declares she doesn't take Instagram that seriously because ultimately she wants people to go out and not just look at them through a screen. Finally, German and French BLESS designers, DESIREE HEISS and INES KAAG, write a special review about their collections titled Nº56 Worker's Delight, Nº 57 Daycation, Nº 58 Wearaways and Nº 59 Holding on the Explosion as a part of a trans-disciplinary project which began in 1997. The duoalso declare that their products are a fusion of fashion and art, design and architecture, business and social practice, that they see design as a way of life, "What we do results from the situation we live in."

This issue also focuses on the work of some groundbreaking artists, exploring their latests projects like; American avant-garde composer, musician, filmmaker and artist LAURIE ANDERSON, who directed the film Heart of a Dog produced by ARTE, names CHRIS MARKER as an inspiration to her work and confers about how the present world is very different from the 1970s due to its increasingly digital and corporate aspects. From his studio in Sao Paulo, Brazilian artist RODRIGO BRAGA talks about Mer Interieur, his first exhibition in Europe, at the Palais de Tokyo, in Paris, curated by ADÉLAIDE BLANC. For the show, he brought forty-five stones of the same kind. They were used to construct the old buildings of the city and placed in the pond of the museum to represent an old sea that existed many millions of years ago, a constant process of relocation in BRAGA's work.

Covering a survey of the contemporary film scene, MANY OF THEM chats with some remarkable directors about their last projects considered the most significant films of the year like; ÓLIVER LAXE irector of Mimosas, winner of the First Award at La Semaine de la Critique in Cannes, examines how, since he was young, he felt a strong pull towards images and liked to translate the world into them. LAXE also talks about why making films is something paranormal, especially when you realize the impact that images have on people. The Paraguayan auteur PAZ ENCINA, reveals that her film Ejercicios de Memoria is based on the Goiburú family's experience during Alfredo Stroessner's dictatorship and recalls researching the movie and visiting Paraguay's Archives of Terror, chronicling some of the illicit activities undertaken by the secret police force during the dictatorship. Tired of sci-fi and special effets, PAUL VERHOEVEN focuses on real people in his latest movie, Elle, starring ISABELLE HUPPERT and based on the novel of the same name by PHILIPPE DIJAN. VERHOEVEN also argues that in the the US you can't do anything offensive or subversive and ponders why the studios hold an enormous amount of influence and don't want to make edgy movies. Winner of the Silver Lion for Best Director at the Venice Film Festival, AMAT ESCALANTE, opens up about his film La Región Salvaje, and confesses his passion for terror movies and filmmakers like DARIO ARGENTO, GEORGE A. ROMERO and TOBE HOOPER. AMAT also explains that the creature he invented in the film represents the frustration of the Mexican society, as a lot of people are not able to be free, to satisfy their desires, or experiment pleasure. Co-founder of BAFICI in Buenos Aires, ANDRÉS DI TELLA, describes his film 327 Cuadernos, where famous Argentinian writer RICARDO PIGLIA reads his diaries written over the last fifty-eight years, as a symbol of the memories we all have and a portrait of Argentina's history. DI TELLA also reveals he is working on Cine desbordado, a project based on the experimental Spanish filmmaker VAL DEL OMAR. Based on GUADALUPE GAONA's collection of poems Pozo de Aire, MILAGROS MUMENTHALER chats about her film, La idea de un Lago, set in Villa La Angostura, la Región de los Siete Lagos, in Argentina, and describes the experience of portraying the passing of time shooting with different cameras and formats, like 35mm, 16mm, Super 8 and MiniDV in the same film. Winner of the Golden Leopard for Best Director at the Locarno Film Festival, Portuguese director JOAO PEDRO RODRIGUES looks back at his film O Ornitólogo, based on some of the most well-known events in the life of San Antonio de Padua, a very important mythical figure in Portuguese culture, starring the French American actor PAUL HAMY. The director also talks about his future retrospective at the Centre Georges Pompidou, Joao Pedro Rodrigues: Retrospective Integrale, and the installation he will create around San Antonio. Chilean filmmaker PABLO LARRAÍN, whose film El Club won a Silver Bear Grand Jury Prize at the Berlin International Film Festival, shares how the film is based on a story he read online about a priest who runs away from Chile to hide in Germany due to sexual abuse allegations. LARRAÍN also adds that the current obsession for definition and the visual homogeneity of film language is due to the fact that every filmmaker is using the same devices produced in the same factories in Japan, Korea or China. After reading six biographies, three volumes of letters and 1800 poems, TERENCE DAVIS highlights the difficulty of deciding what to leave out of the script of his last movie, A Quite Passion, based on the life of EMILY DICKINSON. DAVIS also recollects how when he read her letters, they were really proper in a way American or British English no longer is because it has been ruined by the text message. Brazilian director WALTER SALLES narrates how his film JIA ZHANGKE: A Guy from Fenyang, was always thought of as being made up of two parts, a documentary and a book, done in collaboration with JAEN-MICHEL FRODON, and recalls the capacity of the Chinese director to understand the complexity of his own country, where major transformations are taking place. "The New Wave brought something fresh, something autobiographical, personal, but never historical or political," BERTRAND TAVERNIER says while discussing his film Voyage à travers le cinéma français. The director also looks back at the importance of the Studio Parnasse, an art house theater he used to visit every Tuesday, with people like JACQUES RIVETTE or CLAUDE CHABROL and where he saw many films the Cinémathèque never played. Finally, filmmaker JONÁS TRUEBA examines his latest film, La Reconquista, named after a belief in the things he wants to conquer again: the first kiss, a sense of time, feelings, colours, smells, and the people who we meet again.

MANY OF THEM encompasses three fashion stories in collaboration with artists like; BERNHARD WILLHELM produces What Is Postmodernism?, a series of photographs shot with his mobile phone of his everyday life as content he might use on his personal Instagram account. YUKINORI MAEDA through the project COSMIC WONDER Kogei Punk Sha recreates the ancestral ceremony of drinking spring water titled Omizue, organized by the Iwami Art Museum and photographed by YURIE NAGASHIMA on the Kohama coast, in Japan. Through a series of in-depth interviews, MANY OF THEM delves into the historical relationship of CHANEL with its specialised ateliers: the millinery of MAISON MICHEL, the embroidery of MAISON LESAGE, the footwear of MAISON MASSARO and the plumasserie of MAISON LEMARIÈ. Plus, a special shoot with the French actress SIGRID BOUAZIZ at the JEAN-JACQUES HENNER museum in Paris illustrates the CHANEL Métiers d'Art 2017 collection, an annual exhibition to showcase the skillset of these legendary French studios, and whose aesthetic and inspiration this year was the atmosphere and decor of the Ritz Hotel in Paris. As COCO CHANEL herself would say, "The Ritz is my home."
Plus, enjoy fashion stories shot in collaboration with: BALENCIAGA, LOEWE, DRIES VAN NOTEN, CHANEL, COMME DES GARÇONS, SACAI, ISSEY MIYAKE, YOHJI TAMAMOTO, JUNYA WATABE, PACO RABANNE, OFF-WHITE, DIOR HOMME, OLIVIER THEYSKENS, JACQUEMUS, LUTZ HUELLE, VEJAS, SIMONE ROCHA, LOUIS VUITTON, COURRÈGES, UNDERCOVER, CÉLINE, MIU MIU, HERMÈS, SIES MARJAN, PRADA, RAF SIMONS, JOHN ALEXANDER SKELTON, OLYMPIA LE-TAN, WENDYJIM, KOCHÉ, JW ANDERSON, LIGIA DIAS, LEMAIRE, CHEREVICHKIOTVICHKI, EATABLE OF MANY ORDERS, DANIELA GREGIS, HOOD BY AIR and BLESS.


672 pages, 275 x 195 x 40 mm, softcover, printed in Spain, 2017.





Cover, BALENCIAGA. Black patent leather cape with hood, coral turtleneck pullover, fuchsia pink polyester blouse with bow at neckline and red synthetic pantashoes, BALENCIAGA. Photography, ANTONIO MACARRO. Styling, PEDRO CANICOBA. Model, ESTELLE CHEN at Elite Paris. Hair and Make-up, JONATHAN SANCHEZ for Bumble and Bumble. and MAC Cosmetics. These BALENCIAGA pieces were photographed in February of 2017 in Paris, France




Page 32, COSMIC WONDER with KOGEI PUNKS SHA. Omizue Iwamino-kamito-mizu, 2017. This ceremony was photographed by YURIE NAGASHIMA in April of 2017 in the land of Iwami, Japan




Page 45, COSMIC WONDER with KOGEI PUNKS SHA. Omizue Iwamino-kamito-mizu, 2017. This ceremony was photographed by YURIE NAGASHIMA in April of 2017 in the land of Iwami, Japan




Page 53, BALENCIAGA. Hooded cape in black vinyl, blouse in pink polyester and legging boots in red polyester, BALENCIAGA. Photography, ANTONIO MACARRO. Styling, PEDRO CANICOBA. Model, ESTELLE CHEN at Ford Models. Hair and Make-up, JONATHAN SANCHEZ for Bumble and Bumble. and MAC Cosmetics. These BALENCIAGA pieces were photographed in January of 2017 in Paris, France




Page 58, BALENCIAGA. Hooded cape in black vinyl, blouse in pink polyester and legging boots in red polyester, BALENCIAGA. Photography, ANTONIO MACARRO. Styling, PEDRO CANICOBA. Model, ESTELLE CHEN at Ford Models. Hair and Make-up, JONATHAN SANCHEZ for Bumble and Bumble. and MAC Cosmetics. These BALENCIAGA pieces were photographed in January of 2017 in Paris, France




Page 71, LOEWE. Long brocade dress in silk with Japanese print and voluminous sleeves, Bag in raffia and brown calfskin and shoes in black leather, LOEWE. Photography, ANTONIO MACARRO. Styling, PEDRO CANICOBA. Model, ANIA CHIZ at Elite Models. Hair and Make-up, JONATHAN SANCHEZ for Bumble and Bumble. and MAC Cosmetics. These BALENCIAGA pieces were photographed in January of 2017 in Paris, France




Page 72, LOEWE. Long brocade dress in silk with Japanese print and voluminous sleeves, Bag in raffia and brown calfskin and shoes in black leather, LOEWE. Photography, ANTONIO MACARRO. Styling, PEDRO CANICOBA. Model, ANIA CHIZ at Elite Models. Hair and Make-up, JONATHAN SANCHEZ for Bumble and Bumble. and MAC Cosmetics. These BALENCIAGA pieces were photographed in January of 2017 in Paris, France




Page 100: ISSEY MIYAKE. Spring-Summer 2017collection. Photography, ANTONIO MACARRO. These ISSEY MIYAKE pieces were photopgraphed in March of 2016 Paris, France




Page 101, ISSEY MIYAKES's head womenswear designer YOSHIYUKE MIYAMAE examines the Seeds collection, a very emblematic title as the company functions like a big tree that drops seeds, which all develop at their own rate




Page 173, BALENCIAGA. Square shoulder coat in navy wool, cicling trousers in black wool and platform boots in black leather, BALENCIAGA. Photography, ANTONIO MACARRO. Styling, PEDRO CANICOBA. Model, BARTOLOME CHAPEL at Success Models. Hair and Make-up, JONATHAN SANCHEZ for Bumble and Bumble. and MAC Cosmetics. These BALENCIAGA pieces were photographed in September of 2016 in Paris, France




Page 178, VEJAS. Assymetric blouse in black cotton, gathered waist skirt in gold suede and white leather boots, VEJAS. Photography, ANTONIO MACARRO. These VEJAS pieces were photographed in October of 2016 during its first presentation in Paris, France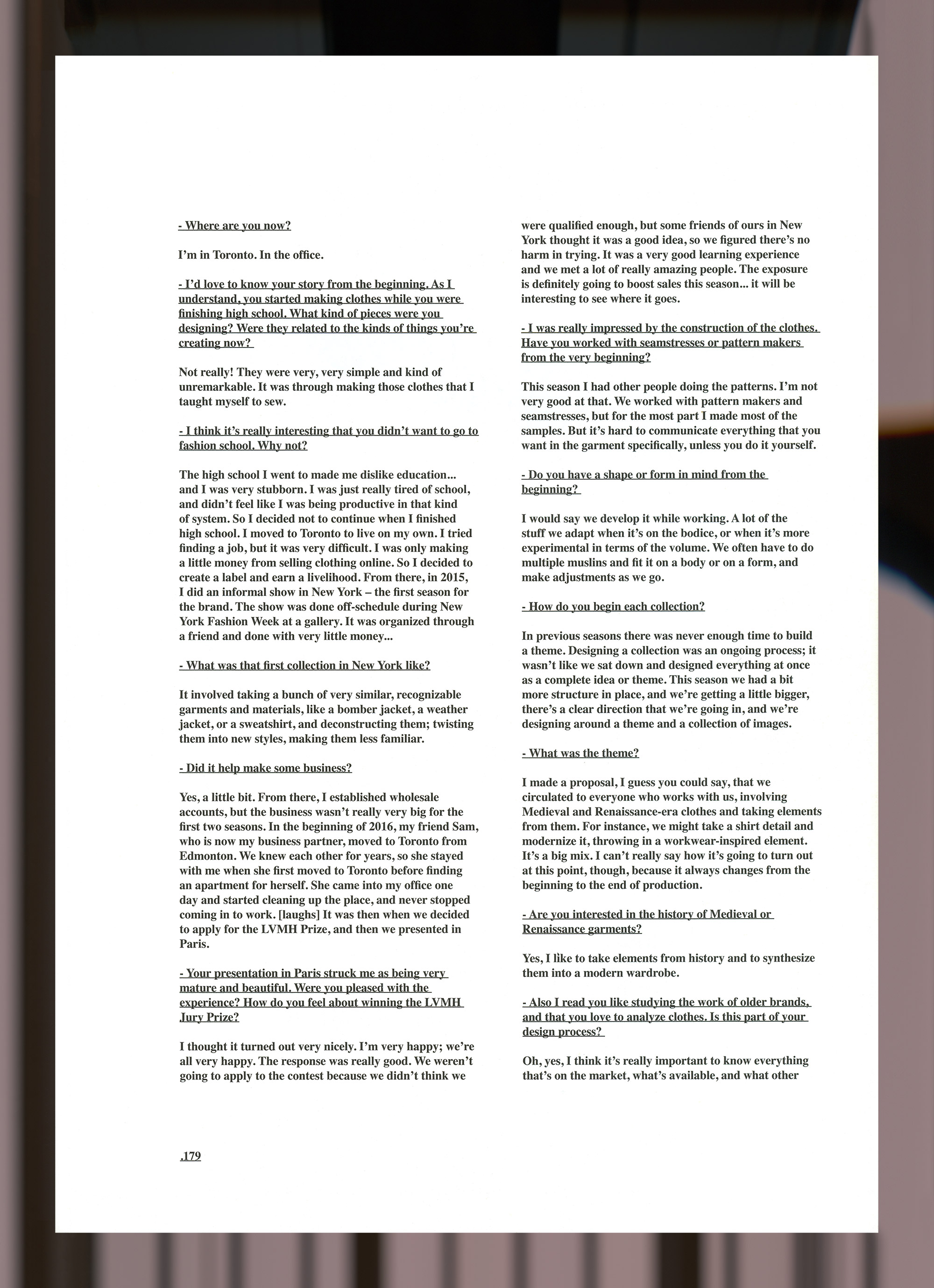 Page 179, VEJAS. Winner of the LVMH Jury Price VEJAS KRUSZEWSKI chats about his first collection presented in Paris and reflects about how practicality and functionality mixed with a futuristic, organic vibe are recurring elements in his work




Page 187, SIMONE ROCHA. Pink peonies embroidered dress in black chiffon, bow strap bag in light pink leather and plaform boots in lihgt pink leather, SIMONE ROCHA. Photography, ANTONIO MACARRO. Styling, PEDRO CANICOBA. Model, ANIA CHIZ at Elite Models. Photographer, ANTONIO MACARRO. Stylist, PEDRO CANICOBA. Hair and Make-up, JONATHAN SANCHEZ for Bumble and Bumble. and MAC Cosmetics. These SIMONE ROCHA pieces were photographed in January of 2017 in Paris, France




Page 194, Inspired by JACKIE NICKERSON's farm photos, SIMONE ROCHA discusses her Spring-Summer 2017 collection and how she understands her work as a reinterpretation of classical femininity codes to see how they can become interesting or perverse




Page 209, LOUIS VUITTON. Photography, ANTONIO MACARRO. Styling, PEDRO CANICOBA. These LOUIS VUITTON pieces were photographed in January of 2017 in Paris, France




Page 213, The duo behind COURRÈGES, ARNAUD VAILLANT and SÉBASTIEN MEYER, explain the manifesto they wrote for the team of the legendary fashion house, Simplicité et vision, referring to how fashion is in desperate need of simplicity these days




Page 221, COURRÈGES. Color block biker jacket in leather, ribbed fabric jumpsuit in white cotton and boots in black patent leather, COURRÈGES. Photograper, ANTONIO MACARRO. Styling, PEDRO CANICOBA. Model, CHIHARU OKUNIGI at Uno Models. Hair and Make-up, JONATHAN SANCHEZ for Bumble and Bumble. and MAC Cosmetics. These COURRÈGES pieces were photographed in July of 2016 in Paris, France




Page 227, JUNYA WATANABE. Dress with pleated flounces in black polyester, leggings in black cotton, mocassins in pleated black leather, JUNYA WATANABE. Photography, ANTONIO MACARRO. Styling, PEDRO CANICOBA. Model, VAlOU WEEMERING at Uno Models. Hair and Make-up, JONATHAN SANCHEZ for Bumble and Bumble. and MAC Cosmetics. These JUNYA WATANABE pieces were photographed in July of 2016 in Paris, France




Page 233, DRIES VAN NOTEN. Pinstripe jacket in navy wool, holed skirt in emerald green sequins, leopard pattern trousers in silk velvet and fake fur scarf in dark green, DRIES VAN NOTEN. Photography, ANTONIO MACARRO. Styling, PEDRO CANICOBA. Model, VAlOU WEEMERING at Uno Models. Hair and Make-up, JONATHAN SANCHEZ for Bumble and Bumble. and MAC Cosmetics. These JUNYA WATANABE pieces were photographed in July of 2016 in Paris, France




Page 255, BERNHARD WILLHELM produces What Is Postmodernism?, a series of photographs shot with his mobile phone of his everyday life he might use on his personal Instagram account




Page 256, BERNHARD WILLHELM produces What Is Postmodernism?, a series of photographs shot with his mobile phone of his everyday life he might use on his personal Instagram account




Page 265, LOUIS VUITTON. Oversized suit in black silk and wool, chain belt in gold metal with black leather ribbons and shoes in gold leather with black crossed straps, LOUIS VUITTON. Photography, ANTONIO MACARRO. Styling, PEDRO CANICOBA. Model, ALISHA NESVAT at Elite Paris. Hair and Make-up, JONATHAN SANCHEZ for Bumble and Bumble. and MAC Cosmetics. These LOUIS VUITTON pieces were photographed in January of 2017 in Paris, France




Page 303, RAF SIMONS. Oversized shirt in white cotton with a print of ROBERT MAPPLETHORPE's picture, jumpsuit in black leather, socks in black cotton and slide sandals in black rubber, RAF SIMONS. Photography, ANTONIO MACARRO. Styling, PEDRO CANICOBA. Model, BARTOLOME CHAPEL at Success Models. Hair and Make-up, JONATHAN SANCHEZ for Bumble and Bumble. and MAC Cosmetics. These RAF SIMONS pieces were photographed in September of 2016 in Paris, France




Page 369, JW ANDERSON. Assymetric tunic in natural linen decorated with graffiti painting, oversized trousers in cotton and boxing boots in black leather, JW ANDERSON. Photography, ANTONIO MACARRO. Styling, PEDRO CANICOBA. Model, ARMAND PUSZTA at Bananas Models. Hair and Make-up, JONATHAN SANCHEZ for Bumble and Bumble. and MAC Cosmetics. These JW ANDERSON pieces were photographed in January of 2017 in Paris, France




Page 525, LEMAIRE. Blouse in black silk, shirt with mao collar in beige silk, trouser in light brown denim and boots in white leather, LEMAIRE. Photography, ANTONIO MACARRO. Stylist, PEDRO CANICOBA. Model, CHIHARU OKUNIGI at Uno Models. Hair and Make-up, JONATHAN SANCHEZ for Bumble and Bumble. and MAC Cosmetics. These LEMAIRE pieces were photographed in July of 2016 in Paris, France




Page 558, BLESS. BLESS Nº 58 Wearaways add The Costumes & Wishes DFGF Limited Edition that includes creatively improvised scarfs, wraparounds and accesories with tangential and cubist juxtapositions (Boy with green hair, MARILYN MONROE). DGF memorial longsleeve and shortsleeve do not hold back on color impact even as they image the 2016-17 collaborative exhibition of BLESS, DOMINIQUE GONZALEZ-FOERSTER & MANUEL RAEDER at Schinkel Pavillion




Page 561, CHANEL. By a series of in-depth interviews, MANY OF THEM delves into the historial relationship of CHANEL with its specialised aterliers; the millinery of MAISON MICHEL, the embroidery of MAISON LESAGE, the footwear of MAISON MASSARO and the plumasserie of MAISON LEMARIÈ




Page 562, CHANEL. By a series of in-depth interviews, MANY OF THEM delves into the historial relationship of CHANEL with its specialised aterliers; the millinery of MAISON MICHEL, the embroidery of MAISON LESAGE, the footwear of MAISON MASSARO and the plumasserie of MAISON LEMARIÈ




Page 563, CHANEL. By a series of in-depth interviews, MANY OF THEM delves into the historial relationship of CHANEL with its specialised aterliers; the millinery of MAISON MICHEL, the embroidery of MAISON LESAGE, the footwear of MAISON MASSARO and the plumasserie of MAISON LEMARIÈ




Page 610, PAUL VERHOEVEN. Elle [still], 2016. Paris, France




Page 611, PAUL VERHOEVEN. Tired of sci-fi and special effects, the dutch filmmaker focuses on real people in his latest movie, Elle, starred by ISABELLE HUPPERT and based on the novel of the same name by PHILIPPE DIJAN




Back cover, LOEWE Spring-Summer 2017 campaign. Creative direction, JONATHAN ANDERSON and M/M PARIS. Photography, STEVEN MEISEL. Styling, BENJAMIN BRUNO. Model 1, AMBER VALLETTA at Viva Paris. Model 2, JACKSO WAKEFIELD at DNA Models. Bag 1, black calf hammock with slogan intarsia and calla lily charm, 2017. Bag 2, Gold-dipped pecan calf and suede lantern bag, 2017. Hair, GUIDO PALAU. Make-up, PATH McGRATH. This campaign was photographed in Paris, France