MANY OF THEM [issue] #4 [title] A MAGAZINE EXPEDICIÓN + [extra book] A FILME EXPEDICIÓN – 35,00 € - ORDER NOW

35,00 € – ORDER NOW ︎





"PORT MORESBY, SEPTEMBER 20, 1914. ON SEPTEMBER 1ST BEGAN A NEW EPOCH IN MY LIFE: AN EXPEDITION* ALL ON MY OWN TO THE TROPICS. I FELT I WAS TAKING LEAVE OF CIVILIZATION. I WAS FAIRLY DEPRESSED. AFRAID I MIGHT NOT FEEL EQUAL TO THE TASK BEFORE ME.

BRONISLAW MALINOSKI, A DIARY IN THE STRICT SENSE OF THE TERM."


For Issue #4, MANY OF THEM interviews former editor-in-chief of French Vogue IRÈNE SILVAGNI at YOHJI YAMAMOTO's Paris headquarter, with whom she started to work because YAMAMOTO water her like a medium able to translate his work from japanish to a western language. SILVAGNI also recounts how when Japanese designer presented their first collections in Paris, in 1981, it was a cultural shock and a total revolution, even producing battles outside Musèe du Louvre among the editors after the shows. After making the decision to move his studio to LA—where according to BERNHARD WILLHELM everyone is obsessed with youth, and with obtaining that "look," the German designer reflects on 3000, When Fashion Shows The Danger Then Fashion Is The Danger, an exhibition of his work held at the MOCA museum, and explains that the Chinese market doesn't want to buy clothes for intellectual reasons or some kind of curiosity, but instead because it's just a status symbol. Italian designer DANIELA GREGIS goes through the development of her last collection, L'una, presented in Oratorio della Passione in Saint Ambrogio, in Milan, where they performed a live painting set and expresses how in her opinion clothes are about protection and become a part of you. "I started working with Yves Saint Laurent when I was 17, in the ateliers of the avenue Marceau, and because of the typical arrogance of the youth, I used to say that what I learnt there was everything I didn't want to do, but I was wrong," legendary designer SYBILLA declares. She also speaks about making a comeback in the fashion industry after recovering the control of her eponymous brand and about Poc a Poc, a project on sustainability, agriculture and social service based in Majorca. Head of knitwear at Yohji Yamamoto, RAGNE KIKAS, reminisces on how she fell in love with knitwear because she was able to create her own fabrics, and how she started working for YOHJI YAMAMOTO after participating at the 27th Festival International de Mode et Photographie in Hyères, where he was the president of the jury. Belgium designer JAN JAN VAN ESSCHE remembers how before starting his own label he worked at a big global corporate fashion company for a while, which taught him how he didn't want to do things himself and converses about his travels around West-Africa, where he encountered an entire world of unfamiliar shapes and new ways of dressing up that are still inspiring to him to this day. From her atelier in LA designed by JOHNSTON MARKLEE architectural studio, jewelry designer SONIA BOYAJIAN talks about her latest collaboration with PETER COPPING for NINA RICCI Spring 2015 collection—based on how pre-war women used to make clothes and jewelry by hand from materials they found—and asserts that the American fashion scene is all about capitalism and it makes clothes look inexpensive. Creative director of MAISON LEMARIÉ, CHRISTELLE KOCHÉ, chats about the launch of her own brand, KOCHÉ, which mixes couture and French heritage with masculine sportswear, and explains how streetwear is relevant nowadays because it's linked to people's needs and how they move in their lives.

MANY OF THEM also includes a dossier on the most relevant film projects of the year. Winner of the Golden Leopard at the International Locarno Film Festival, Portuguese filmmaker PEDRO COSTA reveals his latest project Cavalo Dinheiro, staring Ventura, his oracle. COSTA also ponders on how WARHOL is not a very well regarded filmmaker, but for him it's important to recognize how radical he is. Chinese auteur JIA ZHANG-KE articulates that by filming A Touch of Sin he tried to feel and imagine how violence is cultivated within everyday life in his country, and claims that in China the censorship can come from the audience, like what happened with Django Unchained, when people reported it to the Film Bureau for a full frontal nudity shot of a black men which lasted about one second. Despite wining Best Director in the 2013 Cannes Film Festival, director of Heli, AMAT ESCALANTE, expresses how for him it's important to keep some distance from the film industry to stay true to who you really are and maintain your authentic nature. ESCALANTE also debates how the Central European gaze on Latin American films is a particular movement that is about analysing it like a fashion until the attention runs out and then they will go to other works like Iranian film. ISAKI LACUESTA, director of Murieron por encima de sus posibilidades, shares how he sees the cooperative structure as a way to fund a movie away from subsidies or private funding and tell us that his next project, La Propera Pell, is a two part experimental drama-thriller about the construction of family relationships and invented memories. Filmmaker LISANDRO ALONSO, whose film Jauja won the Fipresci Prize in 2015 opens up about writing the script for his film with FABIAN CASAS, a famous Argentinian poet, and his work within the movie with actor VIGGO MORTENSEN. ALONSO also declares that he doesn't want to handle images to be watched on a plasma screen, cinemascope or whatever the screen of tomorrow will be. "I was raised in the Southern Philippines, in Cotabato, where my parents moved during the pioneering days with the vision to educate indigenous people," says Filipino filmmaker LAV DIAZ while discussing how he considers his practice a dialectical confrontation of humanity's struggle and clarifies why he doesn't make films for the audience as we know it, but for the own cinema. The producer of most of his movies, MOIRA LANG, who made Norte, the End of the History, a movie by LAV DIAZ, looks back at when she found out the film was accepted in Cannes, "It wasn't finished yet, so I didn't sleep for two and half weeks until I arrived at the festival." LANG also remarks that independent filmmaking in the Philippines had its boost because of a couple of grant-giving bodies that funded filmmakers to start their production and that the 50s were the so-called first Golden Ages of Filipino cinema. The French actress CHARLOTTE GAINSBOURG discloses Chauses interdites, by RENÉ CLEMENT, is what made her want to do films and that she was not supposed to be among the cast of Antichrist, but she met LARS VON TRIER after another actress left the project. After its premiere at the Toronto International Film Festival, MIA HANSEN LØVE speaks about her last film Eden and says is not rooted in ideologies or political involvement because those are the issues of her parents generation, and she thought it was important to highlight her brother's friends who were gay and introduced him to the electronic music scene in Paris. "I always have a camera with me, but I don't film everyday, only when it comes from what is happening around me," states cult filmmaker JONAS MEKAS from his studio in Brooklyn while talking about his latest movie, Outtakes from a Life of a Happy Man, and explains how when establishing the Anthology Film Archives in 1970, he felt a duty and responsibility to screen new independent films that nobody else would ever show. MEKAS also comments he doesn't know exactly what bad cinema is because every film, no matter how bad, has something in it. Last but not least, TODD HAYNES chats about his latest film, Carol, based on the secret lesbian novel of PATRICIA HIGHSMITH, which was titled The price of Salt when it was first published. HAYNES also remembers being a part of the nuclear cinema moment that was fueled by a political and a cultural urgency, which was the AIDS crisis at the beginning of the 80s and feels like all the radical energy from the gay fight has sort of moved into these fairly conventional desires.

For this issue's fashion specials MANY OF THEM shoots in historic ateliers, beautifully landscaped gardens, museums and many more unique locations in collaboration with established and independent designers. Photographed by YURIE NAGASHIMA, COSMIC WONDER along with KOGEI PUNK SHA perform the water ceremony kamino-hikarino-awa under the April sky, where visitors were invited to drink the spring water welling up from the foot of the mountains. LOUIS VUITTON by NICOLAS GHESQUIÈRE's Pre-Fall 2015 collection is photographed at the gardens of the Musée du Quai Branly designed by French landscapist and philosopher GILLES CLÉMENT following a non-occidental form of landscaping. Before its official closing to become the Fondation Pierre Bergé-Yves Saint Laurent's headquarter, the historic YVES SAINT LAURENT atelier, located at 5, avenue Marceau in Paris, becomes the setting for a shoot of SAINT LAURENT by HEDI SLIMANE's Fall 2015 collection illustrating literal quotes of the master. The latest Métiers d'Art CHANEL's Pre-Fall 2015 collection takes place at Villa Arnaga, Edmond Rostand's Basque mansion where he wrote Cyrano de Bergerac and where KARL LAGERFELD shot Chanel's earliest campaigns. Illustrating a love letter she wrote from Seville, When the Power of Love Overcomes the Love of Power, the World Shall Know Peace, PAZ DE LA HUERTA is snapped in ALAÏA at her family house in Biarritz, La Roseraie. Avant-garde tailor GEOFFREY B. SMALL describes the process of building his garments and materials, made exclusively in traditional ateliers in region of Veneto to recover the proper sense of the "Made in Italy" qualification, which was lost after years of degrading laws and the disappearance of the country's oldest artisanal and traditional techniques. American artist SUSAN CIANCIOLO collaborates with her closest friends and partners for her movie Queens and Kings, and Working Class Heroes filmed by HARRY HUGHES at 194, Adelphi Street, Brooklyn, NY. Photographed using members of their team from BLESS Shop at 14 rue portefoin in Paris, INES KAAG and DESIREE HEISS from BLESS showcase their Nº 52 Present Perfect Continuos collection. Finally, in a beautiful journey to Lisbon, ISSEY MIYAKE's Fall 2015 collection is shot among some of the most important art pieces of the Calouste Gulbenkian Foundation, the Portuguese institution created by CALOUSTE SARKIS GULBENKIAN.
Plus, THE MUSEUM: MANY OF THEM studies the current role of fashion museums in contemporary culture through a series of interviews to examine the reasons behind fashion's popularity within twenty-first century museums and the impact this has had on wider museum practice with ORIOLE CULLEN, acting senior curator for contemporary fashion at the Victoria & Albert Museum, KAAT DEBO, director of the Antwerp Fashion Museum MoMu, AKIKO FUKAI, director and chief curator of the Kyoto Costume Institute, HAROLD KODA, curator-in-chief of the Anna Wintour Costume Center at the Metropolitan Museum of Art, OLIVIER SAILLARD director of the Musée Galliera, and VALERIE STEEL, American fashion historian, curator, and director of the Museum at the Fashion Institute of Technology.

To finish, MANY OF THEM creates several fashion stories in collaboration with: COSMIC WONDER, LOUIS VUITTON, ISSEY MIYAKE, HERMÈS, SAINT LAURENT, LOEWE, YOHJI YAMAMOTO, LIMI FEU, UNDERCOVER, DRIES VAN NOTEN, LEMAIRE, CHANEL, BERNHARD WILLHELM, JUNYA WATANABE, COMME DES GARÇONS, MAURIZIO AMADEI, ALAÏA, DANIELA GREGIS, SYBILLA, GEOFFREY B. SMALL, EATABLE OF MANY ORDERS, SACAI, PLY, STEVE MONO, JAN-JAN VAN ESSCHE, SUSAN CIANCIOLO, KOCHÉ and BLESS.


624 pages, 215 x 155 x 10 mm, softcover, printed in Spain, 2015.





Cover, ISSEY MIYAKE. Pleated sweater in black polyster, trousers in black wool and shoes in black leather, ISSEY MIYAKE. Photography, ANTONIO MACARRO. Styling, PEDRO CANICOBA. Model, CHEN ESTELLE at Elite Paris. Hair and Make-up, JONATHAN SANCHEZ for Bumble and Bumble. and MAC Cosmetics. These Issey Miyake pieces were photographed in March of 2014 in Paris, France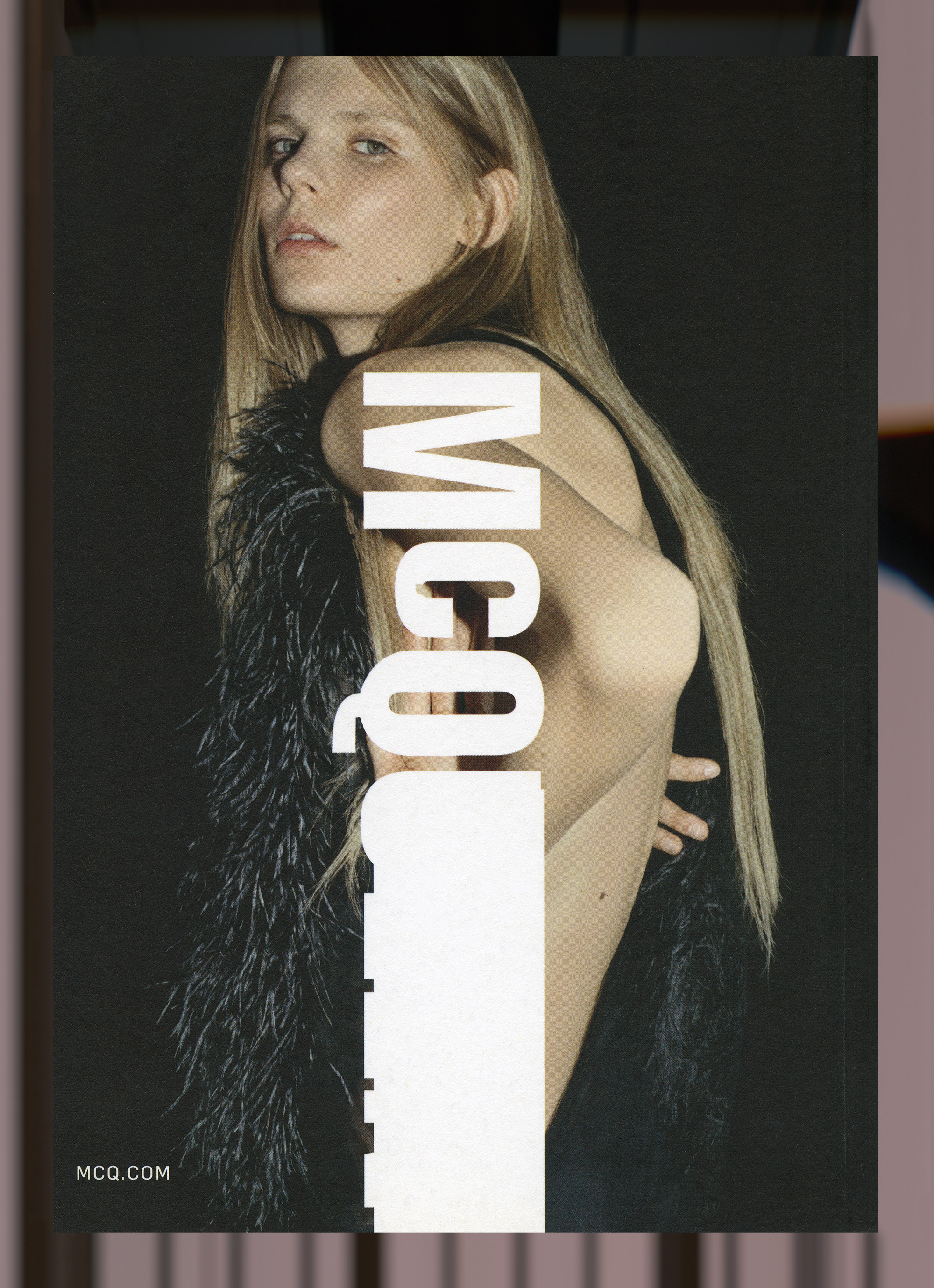 Back cover, McQ Winter 2015 campaign. Photography, HARLEY WEIR. Styling, JODIE BARNES.Model, ALEXANDRA ELISABETH LJADOV at The Squad. Hair, TINA OUTEN. Make-up, MATTHIAS VAN HOOF. This campaign was photographed in London, UK




MANY OF THEM VOL. IV [extra book] A FILME - EXPEDICIÓN – 35,00 € - ORDER NOW

35,00 € – ORDER NOW ︎






"IN AUGUST 2012 MANY OF THEM STARTED A CORRESPONDENCE WITH FILIPINO DIRECTOR RAYA MARTIN. HE PUT FORWARD A CHAPTER-BASED STRUCTURE AS THE STARTING POINT FOR THIS PROJECT. AS A RESULT, SEVERAL CINEMATOGRAPHIC ADVENTURES BEGAN IN DIFFERENT LOCATION THROUGHOUT THE WORLD."


CAST

RAYA MARTIN
NATHALIA ACEVEDO
Christian Astuguevieille
Tiffany Limos
Clara Deshayes
Elsa Qinchaleo
Willebaldo Torres


PLACES

21

Tepoztlán, México
Muséum National d'Histoire Naturelle, Paris
Jaipur, India
New Delhi, India
Musée du Quai Branly, Paris
Atelier Christian Astuguevieille, Bayonne
American Museum of Natural History, New York
Rockefeller Center, New York
The Paris Theater, New York
Little India, Singapore
Ion Orchard, Singapore
Regent Hotel, Singapore
Chinatown, Singapore
Morelia, México
Santiago, Chile
Amboseli National Park, Kenya
Samburu National Reserve, Kenya
Massai Mara National Reserve, Kenya
Nairobi, Kenya
Machu Picchu, Perú
Bateliers du Courant d'Huchet, Léon


144 pages, 215 x 155 x 10 mm, softcover, printed in Spain, 2015.





Cover, Great wall of China, 1997




Back Cover, McQ Winter 2015 campaign. Photography, HARLEY WEIR. Styling, JODIE BARNES. Model, TOBIAS LUNDH at Premium Models. Hair, TINA OUTEN. Make-up, MATTHIAS VAN HOOF. This campaign was photographed in London, UK