[ 7 July 2021, 11:30 a.m. CET ]
Feature, English Version
BALENCIAGA 50TH COUTURE COLLECTION. DEMNA GVASALIA is pleased to invite you to a presentation of the 50th Couture Collection




Looks 01, 31, 53, 59, 60 and 61 – BALENCIAGA 50th Couture Collection. Courtesy of BALENCIAGA.


Fifty-three years have passed since CRISTÓBAL BALENCIAGA closed the doors of his house, largely due to the birth of ready-to-wear, which questioned the raison d'être for the concept of Haute Couture.

Over half a century later I see it as my creative obligation to the unique heritage of M. BALENCIAGA to bring the Couture back to his house. It is the very foundation of this century-old Maison.

The re-launch of a Couture line will offer the highest creative and qualitative level of product to our customer, as well as complete my multi-layered vision for BALENCIAGA the brand, which ranges all the way up from streetwear into conceptual fashion and wardrobe and ultimately into one-of-a-kind, made- to-measure couture pieces.

Couture is above trends, fashion, and industrial dressmaking. It is a timeless and pure expression of craft and the architecture of silhouette that gives a wearer the strongest notion of elegance and sophistication.

Couture is the highest level of garment construction, that is not only relevant in today's mass-productive industry, but even absolutely necessary for the survival and further evolution of modern fashion design.

I invite you to discover and enjoy this tribute to the legacy of CRISTÓBAL BALENCIAGA and my very personal vision of the essence of fashion.

Love,
DEMNA


Text, DEMNA GVASALIA


@balenciaga @demnagvasalia @elizad0uglas


[ 20 January 2021, 12:36 p.m. CET ]
Review, English Version
VALENTINO: RE-SIGNIFY PART ONE SHANGHAI. The Power Station of Art presents the work of PIERPAOLO PICCIOLI in dialogue with the moods, motivations and enquiry of our time



Intallation view, VALENTINO: Re-Signify Part One: Shanghai, 2020, Power Station of Art, Shanghai. Courtesy of VALENTINO


From December 19th, 2020 to January 17th, 2021, the Power Station of Art in Shanghai presents the first chapter of Re-signification, a physical manifestation of Creative Director, PIERPAOLO PICCIOLI's pragmatic and conceptual approach to defining VALENTINO today and in the future. The brand past and present merges with contemporary artistic and visual examination—from video art and photography to underground cinema and computer graphics. To understand specific connections is to realize the appropriation and re-contextualization of data, details, and the fragments of past experiences. It is the embrace of unexpected points of view on aesthetics, techniques, pre-existing languages, imagery, and so, epochs and styles attach and overlap. Connecting the work of PIERPAOLO PICCIOLI for VALENTINO to paradigms of research, the exhibition references heritage and present-day collections intertwined with eclectic and alternative art traces across two centuries, evoking the colors, forms and underlying structures of the Maison.

Curated by MARIUCCIA CASADIO and JACOPO BEDUSSI, the experience is organized in architectural space through a series of rooms and totems created by the innovative consultancy KENNEDY LONDON. The timeline of thought begins to unfold in a virtual tunnel filled with images acquired from the Maison's historical archives which are then paired with transformations, organized and re-read, to create a new kind of archive. The journey continues into a world of botany and artisanal ability that showcases the aesthetic universe of the VALENTINO GARAVANI Atelier. Two galleries present antithetical explorations of the garden. CAO FEI's prophetic Cosplayers looks to the future, amplifying a landscape to present an imaginative elsewhere, while QUAYOLA's Jardins d'Été, captures a reality beyond our senses and pays homage to the past and the tradition of the landscapes CLAUDE MONET painted later in life. Venturing even further into the fundamental concepts of memory and archive, a selection of the cinematographer ROBBY MÜLLER's Polaroid interpretations of hotel and motel rooms in 1970's and 80's America and Italy are projected at scale in the shape of a pentagon. Moving on, two totems make emotional statements about the past in connection with designs from the new VALENTINO Collezione Milano. In an interpretation of a library, the relationship between iconography and reference, signs, colors, and codes is reinforced when archives of the fashion house are juxtaposed with the work of PIERPAOLO PICCIOLI and expressions of pop culture tangential to the world of fashion, including historical clothing, scarf patterns from the 1960's, images of the Diary campaign shot by PIERPAOLO PICCIOLI, examples of psychedelic Californian graphics by STANLEY MOUSE, and a comparison between the geometric exploration of stripes and maxi polka-dots and the work of SOLVE SUNDSBO. The research also draws a transoceanic parallel between the evolution of aesthetics and design in VALENTINO's Italy with the revolutionary style of the "Summer of Love" in San Francisco. Next to the library is a piazza, inspired by Piazza del Popolo in Rome, where three dresses from the Maison's Couture FW20-21 collection are immersed in reality, imparting all the poetic hypotheses and dreams that the clothes of Couture represent.

Moving forward in time, the Maison hovers between present and future in merging with the contemporary artistic practice of NICK KNIGHT through a film created expressly for the exhibition that projects his work directly onto the clothes, creating a transportive and virtual domain of the unimaginable. A studio space offers a deeper analysis of the Atelier collection and the symbol of the rose. The focus is the famous red dress with roses on the skirt designed by VALENTINO GARAVANI for the 1959 Haute Couture collection. Continuing on the theme, the video works by JONAS MEKAS and WEIRDCORE tell two opposite stories of the floral motif. MEKAS' Flowers from the Online Diaries is organic, intimate, and filmed in an experimental but domestic cinematographic language. WEIRDCORE's -0° is digital, computerized and not at all natural. The experience is one of interacting with two generations, and the space overall explores codes of romanticism and poetry, rejecting classical aesthetic imagery in favor of new associations and linguistic hypotheses. Finally, a dungeon combines classical Rome with underground culture represented by the raw, dark imagery of JACOPO BENASSI. The very last experience is dedicated to contemplation and decompression. Quotes from PIERPAOLO PICCIOLI on an LED strip offer interpretations of re-signification, and his voice fills the space as he reads them aloud.

Ultimately, what PIERPAOLO PICCIOLI offers is a way of being, of imagining, of dreaming. A language that is poetic and romantic, but also visually palpable. The creative director's presentation makes this language comprehensible and open to all, inviting diverse and personal interpretations, all authentic because possible.


Text, CLAIRE COTRELL


@valentino #VALENTINORESIGNIFY #VALENTINO再诠






NICK KNIGHT, Of Grace and Light [Still], 2020. PIERPAOLO PICCIOLI in conversation with NICK KNIGHT, july 21s, 2020, Cinecittà, Rome. Valentino Haute Couture Fall-Winter 2020-2021. ©NICK KNIGHT. Courtesy of the artist




NICK KNIGHT, Of Grace and Light [Still], 2020. PIERPAOLO PICCIOLI in conversation with NICK KNIGHT, july 21s, 2020, Cinecittà, Rome. Valentino Haute Couture FallWinter 2020-2021. ©NICK KNIGHT. Courtesy of the artist




Intallation view, VALENTINO: Re-Signify Part One: Shanghai, 2020, Power Station of Art, Shanghai. Courtesy of VALENTINO




RACHEL ROSE, A Minute Ago [still], 2014. ©RACHEL ROSE. Courtesy of the artist and Pilar Corrias, London




QUAYOLA, Jardins d'Été [still], 2016. ©QUAYOLA. Courtesy of the artist




Intallation view, VALENTINO: Re-Signify Part One: Shanghai, 2020, Power Station of Art, Shanghai. Courtesy of VALENTINO




CAO FEI, Cosplayers [still], 2004. ©CAO FEI. Courtesy of the artist, Vitamin Creative Space and Sprüth Magers




WEIRDCORE, -0° [still], 2000. ©WEIRCORE. Courtesy of the artist




WEIRDCORE, -0° [still], 2000. ©WEIRCORE. Courtesy of the artist




Intallation view, VALENTINO: Re-Signify Part One: Shanghai, 2020, Power Station of Art, Shanghai. Courtesy of VALENTINO

[10 January 2021, 11:00 p.m. CET ]
Review, English Version
COSMIC SORCERY: CHARLOTTE RAMPLING, SAINT LAURENT'S SUPREME PRIESTESS. GASPAR NOÉ takes us on a dark and sensual interpretation of the forthcoming summer collection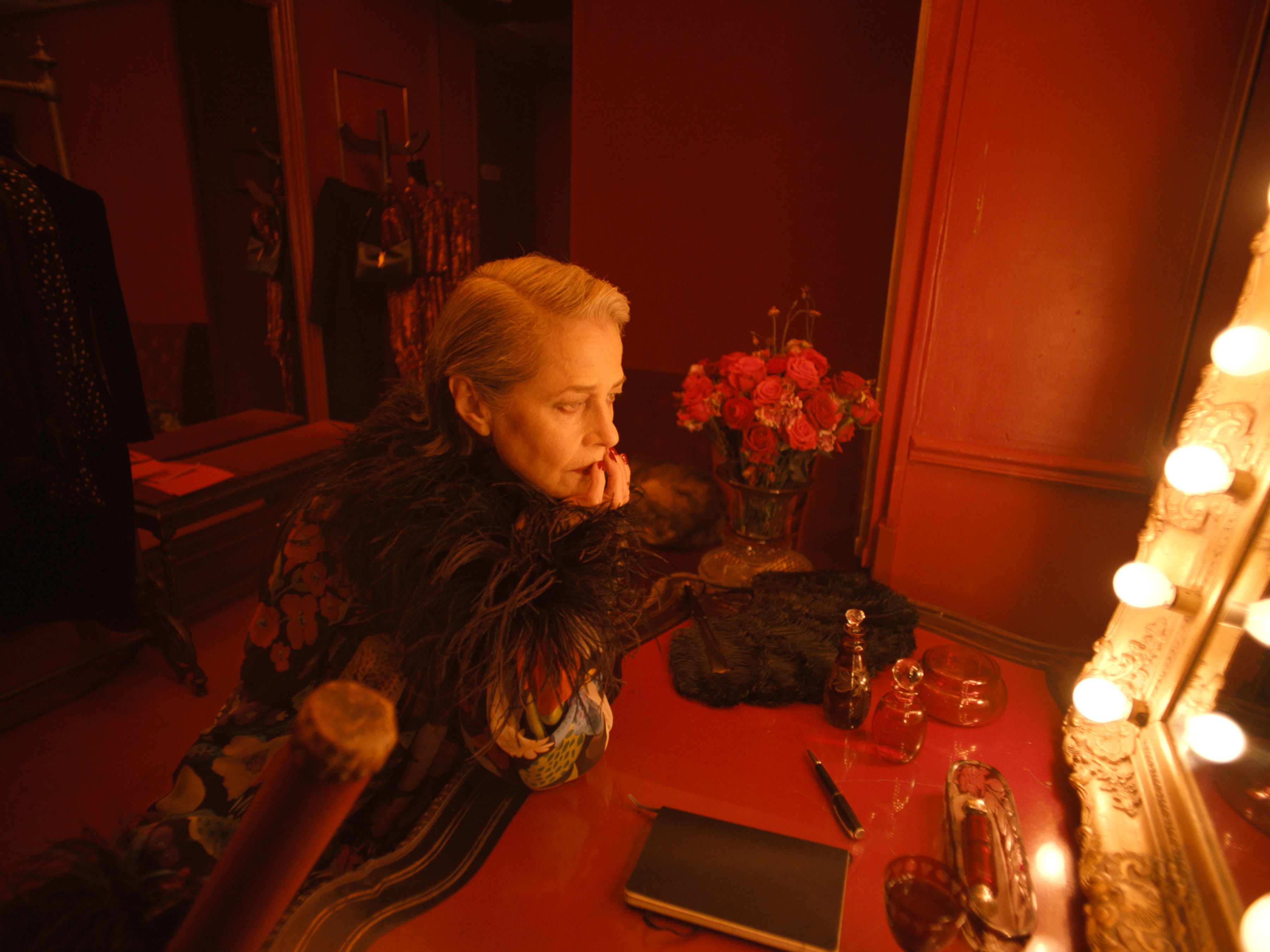 GASPAR NOÉ, Summer of '21 [still], 2021. ©GASPAR NOÉ. Courtesy of SAINT LAURENT


A kinetic shadow play unfurls on the screen to the pulsing tune of DONNA SUMMER's iconic I Feel Love reinterpreted by SEBASTIAN. A longtime SAINT LAURENT collaborator—having provided the music to accompany several runway shows—he has previously teamed up with the brand and NOÉ to shoot his music video THIRST at the Parisian nightclub Hôtel Bourbon. The prolific musician, affiliated with ED BANGER RECORDS, is known for redefining the electronic music scene. Making use of this transformative talent his soundtrack sets the tone for a frantic chase through the woods, bucolic terror style, which ends in refuge at a mansion that is part gentleman's club part opera house. At its centre we find the enigmatic CHARLOTTE RAMPLING taking stage as the high priestess, girls orbiting around her—you can spot the likes of ANOK YAI, ANTONIA PRZEDPELSKA, ASSA BARADJI, AYLAH MAE PETERSON, CLARA DESHAYES, GRACE HARTZEL, KIM SCHELL, MICA ARAGANARAZ, MIRIAM SANCHEZ, SORA CHOI and STEFANIA CRISTIAN—amidst an off-kilter dreamlike atmosphere based on ANTHONY VACARELLO's vision which melds influences reminiscent of the atmosphere of the first SAINT LAURENT Rive Gauche boutiques of the sixties with current times to create a dark sultry mood—think Belle de jour meets The Devil Came from Akasava.

This decadent and unsettling take on the Summer of '21 stems from Lux Æterna's success at the 2019 Cannes Festival. The fifty minute movie marks the fourth chapter of the ongoing SELF project, an artistic commentary on society, curated by VACARELLO. Other chapters have included illustrious creators such as DAIDO MORIYAMA, VANESSA BEECROFT, WONG KAR WAI, ABEL FERRARA and BRET EASTON ELLIS. SELF started off as a means to explore the different facets of the SAINT LAURENT personality, but with a free reign in the realm of self-expression, encapsulating diversity, individuality and self-confidence as cornerstones for each segment. Lux Æterna forms a prime example, GASPAR NOÉ directs BÉATRICE DALLE, CHARLOTTE GAINSBOURG and ABBEY LEE, to name a few, in a "film within a film." A striking visual essay on beliefs, its themes circle around the craft of acting and filmmaking in neo-noir style with witchery as a leitmotif carried through in the upcoming collection's cinematic presentation. The garment's sartorial references hark back to a decade geared towards optimism, tying in our current hopes for a more positive future.


Text, EMERALD LIU



@saintlaurent @anthonyvaccarello @gasparnoeofficial @sebastian_edbgr @edbanger @anokyai @micarganaraz @miriamsanchezzzz @sola5532 @clara3000 @_aylah_ @assabaradjii @graciehartzel @kimschell @stefania_cristian @anto.nie.ja

[ 27 February 2020, 11:00 p.m. CET ]
Feature, English Version
KENZO: BLADERUNNING INTO A NEW ERA. FELIPE OLIVEIRA BAPTISTA's garments paint a canvas of urban metamorphosis



Looks 01-60, KENZO Fall 2020 women and men's runway collection, Going Places. Set installation by BUREAU BETAK. Courtesy of KENZO. Video, ANTONIO MACARRO



On the 26th of February 2020 FELIPE OLIVEIRA BAPTISTA presented his debut collection titled Going Places for KENZO. Placed in the middle of the Verdant Gardens in the Institut National de Jeunes Sourds, a plastic tunnel-like structure with transparent corridors, described as "modular nomadic objects," can be detached and put back together to create any desired form and is intended to be used in KENZO's upcoming pop-up stores and installations. Created by BUREAU BATEK, these inflatable tubes will be reused ad infinitum, representing the design company's promise to adhere to a new sustainability manifesto. ROSALÍA's entrancing song "De aquí no sales (Cap.4 Disputa)" starts a soundtrack created by fashion's leading sound director MICHEL GAUBERT who has collaborated with OLIVEIRA BAPTISTA on numerous occasions, bringing an interesting selection to this KENZO playlist which begins with ROSALÍA and is followed by JAMIE XX "Idontknow," BILLIE EILISH, and songs from HBO's hit show, Euphoria. GAUBERT's made-to-measure soundscapes stem from his personal approach, bonding with each designer to facilitate creative exchanges.

Inspired by his own journeys and those of founder KENZO TAKADA, FELIPE OLIVEIRA BAPTISTA's first collection begins with organic sober colors, which are then intercepted with bright blues, reds, oranges, and yellows. Heads are covered with a variety of items such as wide-brimmed floppy hats with trains reaching the model's knees, hoods connected to parkas, coats or knitted sweaters and stylized versions of a classic outdoor camping hat. The collection goes from tailoring to loose cocoon dresses and then back to tailoring with a stop at utility wear. The importance of functionality, mobility, and migration is highlighted by the transformative elements of different garments such as jackets that convert into sleeping bags and camouflage-like prints. It was all adorned with oversized bags and refined utility belts. Notably, KENZO's iconic tiger emblem is reworked within the garments in innovative ways, with the fabric transforming into a giant tiger's head. These "painting-dresses" take their cue from famed neo-realist painter JÚLIO POMAR (1926-2018), who is considered as one of the most important Portuguese artists of the twentieth century. During the 1980s, the artist found himself enamoured with these feline creatures and set about creating a major series of tiger-centric works.

Since being appointed creative director in 2019, FELIPE OLIVEIRA BAPTISTA took over the creative direction of KENZO and has since overseen artistic direction globally, a position which includes collections, communication and special projects. One of the first changes he made was in collaboration together M/M Paris in the framework of the design of the new KENZO logotype. The aim was to create a new, simple, and timeless logo, a contemporary version of the classic mark which was updated in collaboration with the French artistic duo. The result is a sleek merging of the previous incarnation of three thin lines into one bold stroke, the uneven spaces between producing a dynamic and kinetic effect of movement and unpredictability. This construction game offers room for creative expression to breathe. The word "Paris" was also removed from the logo, giving the brand a feeling of universality.

Also for this show, the Portuguese designer—in collaboration with Parisian visual artists—edited a newspaper-like publication, folded into an A4-sized sheet that opened up to an A2 poster, with the show notes. This compressed editorial piece is flooded with references, inspiration, images, and sketches from OLIVEIRA BAPTISTA's creative process. This includes photographs by JOSE JULIO ABREU, YVAN DALAIN and GUY BOURDIN, intertwined with scans containing drawings from his own sketchbook, photographs he took in Paris (2014), and Koyasan (2019), and his then newlywed parents, MARIA LUISA, and JOAQUIM OLIVEIRA BAPTISTA in Mozambique (1970.) All of these visual elements were crucial in putting together the concept for KENZO's AW20 collection.


Text, CLAIRE COTTRELL


@kenzo @felipeoliveira @BUREAUBETAK @MICHEL GAUBERT @ROSALIA @JAMIEXX @BILIEILISH @EUPHORIA @KENZOTAKADA @JULIO POMAR @MMPARIS @JOSEJULIOABREU @YVAN DALAIN @GUY BOURDIN.